Amidst higher interest rates and weakening sentiments among consumers, there has been significant uncertainty about the Australian housing market. So is the Gold Coast immune, considering it's one of the most sustained and talked-about booming house markets?  
Let's look at the context. 
The Gold Coast is the sixth-largest city in Australia –the largest non-capital city – inhabited by 700,000 people. Gross regional product (GRP) for the Gold Coast equates to around 10.4% of Queenslands' GSP (Gross State Product) making it a reliable engine of future economic growth. Tourism followed by Retail Trade and Accommodation and Food Services are the largest industry contributors to the overall economy.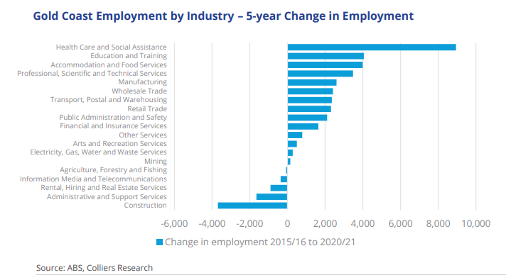 Whilst this isn't new insight, these statistics are fundamental to the economic resilience of the region. The Gold Coast provides the appeal and benefits of a coastal lifestyle without compromising on the proximity to the amenities and infrastructure of modern living. It's paradoxical, but people want the best of both. This has become well established through the pandemic, with the rise of remote work fuelling the demand for operations outside of major cities.   
The Gold Coast is one of the three main venue clusters for the 2032 Brisbane Olympic and Paralympic Games, and has a major part to play in the success of the games. The benefit of hosting the Olympic Games is the acceleration of infrastructure projects that will enable greater government and private sector collaboration to ensure project completion. This improvement in mobility, especially through the public-transportation systems, will inevitably have a greater role in boosting the region's economic development. The trickle-down effects of these latent opportunities will further help mobilise both capital and investments into areas that were either previously overlooked or had little potential.  
From a developer's perspective, these opportunities mean one thing –   expanding the industrial/commercial/residential development sector to service the region's growing economy and population. Below, we answer the question of evidence.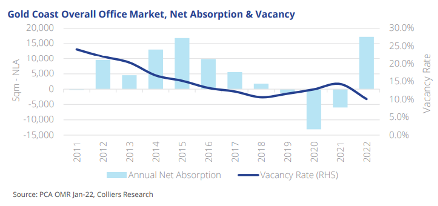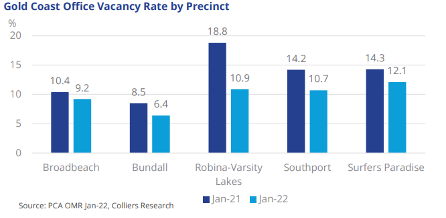 The recent positive net absorption (viewed above) is the result of new and expansionary demand to existing space, which in turn has dragged the vacancy rate to its recent low. We have healthy population growth, major investment in infrastructure projects and a rebounding corporate and small business sector that has put the Gold Coast on a strong trajectory of economic growth and development.