The South East Queensland (SEQ) market has been one of the biggest winners of the post-COVID recovery race. It's a part of this country I enjoy doing business in, and holidaying at – a place very near and dear to AllCap and many of our stakeholders. This therefore brings us to the topic – can concentration and credit go hand in hand?
At the early stages of the COVID recovery, we saw an uptick in interstate migration followed by the normalisation of remote working, especially for those in the 'knowledge' economy. This was inevitably followed by an incremental increase in various developments catering to remote-working-individuals. Those with means pursued housing in Queensland's coastal and lifestyle markets, as ideal WFH locations. The outcome of the increase in migration to the Sunshine state was a higher population forcing prudent employment and policy initiatives. This saw mixed effects across the state, with growth more subdued across regional and rural markets in Queensland.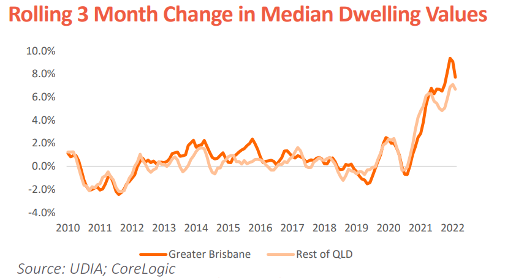 But for established city markets, they were beneficiaries of resilient price growth. In 2021 the majority of SEQ's new apartment supply was completed on the Gold Coast and Sunshine Coast (32%) and within a 5km band of the Brisbane GPO (26% of all new units). Reflecting the above, the top three postcodes for multi-unit completions were 4218, 4101 and 4503, which are in Gold Coast and Brisbane respectively.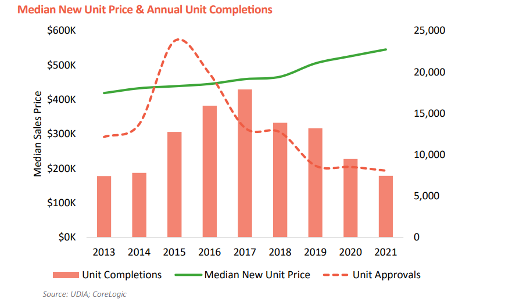 There is no doubt that while these favourable conditions have brought massive opportunity, they've conversely created the fabled 'profitless boom' – with the rapid escalation of material costs, supply chain constraints and extreme stock shortages being foreshadowed for some time. But incrementally we've seen industry consolidation enabling developers to bring quality outcomes to market, as well as adding to their pipeline.
South East Queensland is having its moment under the sun. Whether owners in this post-pandemic era are still pursuing that sunnier lifestyle, or they're just getting priced out of Sydney and Melbourne, investors are getting a better deal. Capital growth together with good rental return means both lenders and developers should anticipate even greater value being unlocked across the region.
It's easy to see that post-pandemic era growth has been uneven and skewed towards very few postcodes in even fewer cities in the South East. Progressively from both a lender and developer perspective, one should anticipate both credit and development deals to incrementally move towards unlocking value across the region. After all concentration and credit are 2 words that lenders seldom repeat in succession.
Image Source: Inertia Engineering