The title is an obvious homage to Episode One of the new Stallone series, Tulsa kings. No spoilers …but just like our protagonist, we feel that there are opportunities and expertise to be applied out West – and in our case this means out across the Nullarbor and into WA.
Firstly, let's go through our usual list of suspects, demographics, and population.
In the 2021-22 fiscal year, Western Australia's population reached a total of 2.79 million, comprising 10.7% of Australia's overall population. The same year saw a notable increase in overall population growth: a 1.3% rise compared to the 1.2% growth in 2020-21. Last year's population growth can largely be attributed to a reversal in net overseas migration, which was negatively impacted by the COVID-19 pandemic in 2020-21. The population growth in 2021-22 can be broken down further into natural increase (16,179), net interstate migration (10,791), and net overseas migration (9,502).
The 2022-23 WA Government Mid-year Financial Projections Statement forecasts a continuation of this growth, projecting a 1.5% increase in both 2022-23 and 2023-24.
As for the economy…
It's known nationally that the largest percentage of WA's economic output is related to the mining sector. This sector faces global exposure to aberrant price swings, impacting the state's economy and impacting the country's, with WA representing 17.5% of the Australian economy.
So truthfully speaking neither the demographics nor the economic prospects appear to be the alluring attributes of WA's real estate market. Here's what is.
92% of Western Australia's residents, 11% of Australia's population, live in the southwest region of the state.. To refine the numbers even more, 75% live in Perth exactly, and its surrounding metropolitan area.
This explains both the ultra-low vacancy rate of 0.6%, as well as the 'not-so-drop' in dwelling value: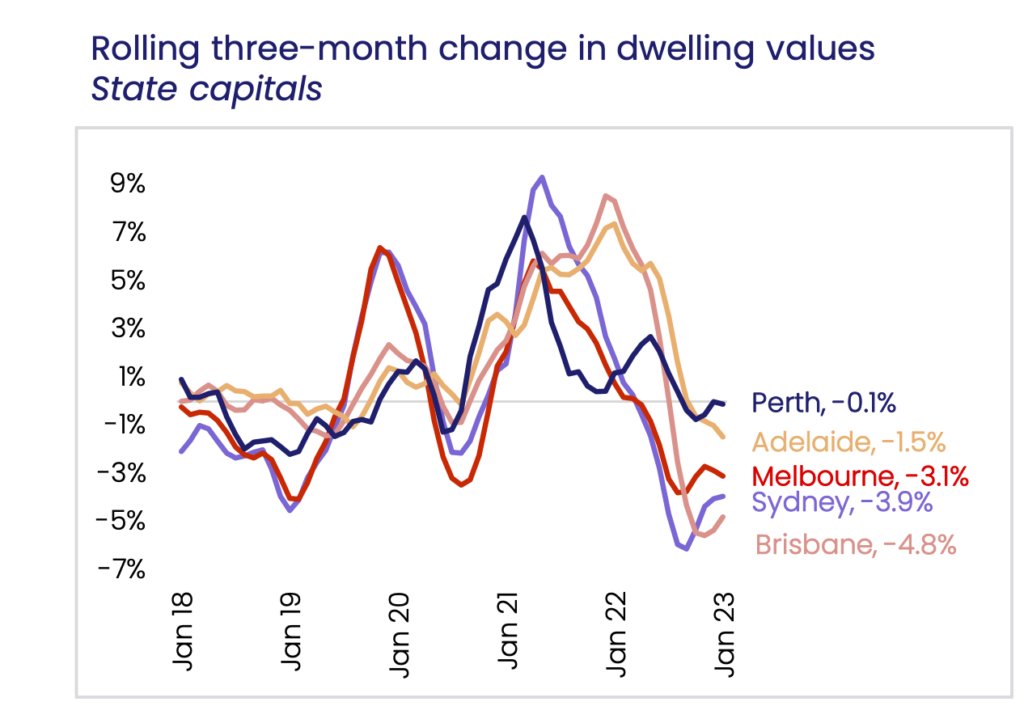 This brings me to investment opportunities, the urban population of WA is attracting both local and foreign investors. The city's low vacancy rate, strong rental demand, and optimistic economic prospects make it an attractive option for commercial, industrial, and residential asset classes. Furthermore, median dwelling prices in Perth stand at $560,000, making it one of the more affordable capital cities in Australia.
The residential real estate sector in Perth has seen a marked increase in demand for rental properties, and prices have been robust. These factors, combined with the proliferation of investment prospects, bode well for the continued growth and prosperity of the market.
My verdict: Perth's real estate market across all asset classes stands to benefit from favourable tailwinds and all relevant parties should be prepared to capitalise on the available opportunities.