Australian businesses and consumers are transitioning to a new normal of positive interest rates and a substantial rise in the cost of living. So it is only fair to ask where we go from here. During the period of 2020-2021, we saw a massive exodus of residents from Victoria and New South Wales to Queensland, which was less affected by lockdowns. We also saw a significant trend in people leaving cities for a change of scenery or even some extra square footage, with migration to regional and coastal areas increasing above long-term average levels. While this narrative has not fully subsided, growing economic concerns and demographic and family status have come to be key motivators for moving.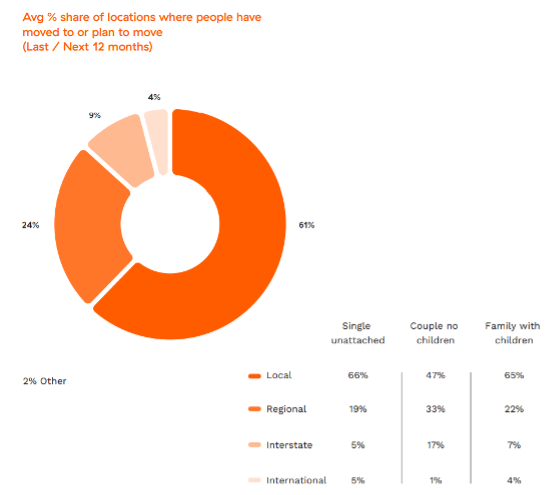 Source : Muval Index 2022
Capital cities are once again registering positive net migration figures, while the latest statistics reveal that 61 per cent of people are moving locally. Almost a quarter (24 per cent) are moving to a regional destination, a figure that suggests regional migration hasn't fallen out of favour (yet) and that the regional lifestyle has proven to be quite desirable.
Source : Muval Index 2022
Regional Australia is experiencing a moment in history like no other. In the decade to 2020, its population grew by an average of 76,500 people per annum. A life in the regions is now more attractive than ever before. However, as millions of Australians either choose to stay in the regions or make the move, this surge in popularity brings with it opportunities that are both challenging and require public and private cooperation to address.
Housing is one such need that needs immediate resolution,  to accommodate the changing population trajectory. With more than 84,000 regional jobs advertised in March 2022 – yet another record broken – regional employers are looking for staff, and they need the appropriate infrastructure and amenities to accommodate them.
Lenders, developers, and construction companies alike stand to benefit from the economic shifts in regional areas. While private sector ambitions offer some remedy to regional housing supply challenges, wider initiatives or policy that encourage investment are long-term imperatives.  In part, this calls for long-term planning to ensure there is a consistency in demand across years, locking in the availability of skilled labour, appropriate technical expertise, and confidence in the local market.